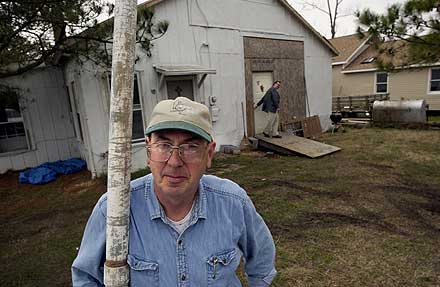 Remembering back a few days ago when I visited with Aunt Carmen for the first time, I remembered a newspaper clipping that she had put in a frame and hung on the wall.
"Yeah, we were in the paper," she proudly pointed. "The Pilot."
The Virginian-Pilot is a huge daily based in Virginia Beach, Virginia. Getting into the paper was big deal, only I never knew just what a big deal it was until now.
The Alyson Jolly House of Hope, where Aunt Carmen runs a mission to help Mexican immigrants, came about after a woman by the name of Alyson Jolly was killed by a drunk Mexican immigrant. Don Jolly, the owner of the building, was compelled by faith to forgive the driver convicted in his dauther's death and donated the building to Aunt Carmen so that she could continue to help the underpriviliged migrants.
The building used to be a garage where Don Jolly's daughter used to write her science fiction stories. After she died, Don knew that she would have wanted to put the building to good use, and that's when the run-down building became The Alyson Jolly House of Hope.
However, with the mention in the paper, it got wide-spread publicity and some of the publicity wasn't so good.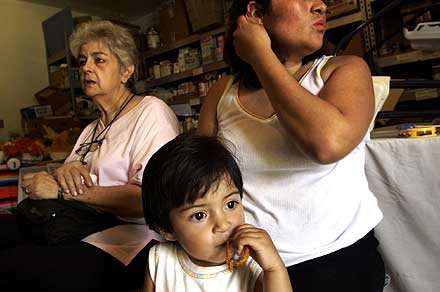 Last year, the county building inspection department ordered a halt to renovations, saying that the garage, which lacks running water, was substandard and that they had to close.
Aunt Carmen was stubborn. She didn't close, but she stopped renovations.
While David A. Fluhart, director of the department, warned that publicity about Aunt Carmen's operation may force the county to demand that the garage comply with regulations or shut down, Aunt Carmen's United Methodist supervisor has proposed sellin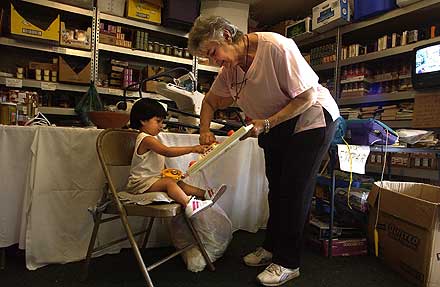 g the garage and moving the ministry to a newer building.
Mr. Jolly disputes this saying that the garage is unsound and needs the counties funds to renovate and has pledged to take his case to Accomack County's Board of Supervisors. He vows he will keep The Alyson Jolly House of Hope alive.
Knowing Aunt Carmen in the little time I have known her, she will stand behind her mission and make sure The Alyson Jolly House of Hope does indeed remain alive.
If you would like to see the full write-up in the Virginian-Pilot, click
here
.
An amazing woman with a heart of hope and strength. It is a pleasure to call her "Aunt."